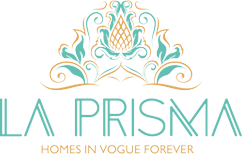 Call for exciting offers at +918427314000
Configuration
2 BHK, 3 BHK, 4 BHK
Overview
La Prisma has redefined Zirakpur as the new hub for experiential living. With the city's growing artistic inclinations towards music, movies, concerts and exhibitions, every day is an experience – to be lived and cherished forever.
LA PRISMA floor plan and the unbelievable price range make these apartments a perfect investment. All the rooms are spacious that are ultimately blessed with ample amount of natural light and breeze. These flats are also outfitted with superior quality flooring and premium fittings.
The 2BHK apartments measure 1250 sqft whereas the 3BHK flats are sized 1570 sqft and 1880 sqft. Apart from spaciously designed, all the apartments are also well aligned to offer beautiful views of the surrounding area. Besides, being splendidly appointed, these apartments have been facilitated with all the prime necessities required for a smooth living.